Family Fishing Deep Sea Fishing in Destin, Florida
Fishing fun for the whole family. Call us .... 850.837.6717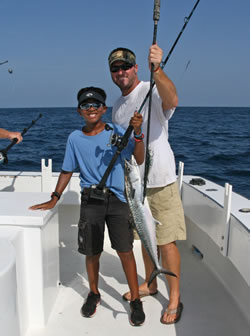 Taking Extra Time and Care with the Kids to make it Fun!
Our 1st mates will take extra good care of your children, so the parents can enjoy themselves too. When deep sea fishing or inshore & bay fishing with young children we have a "can do" attitude! Nothing makes a 1st mate happier than to have a child catch that big fish all by themselves (or with a little help).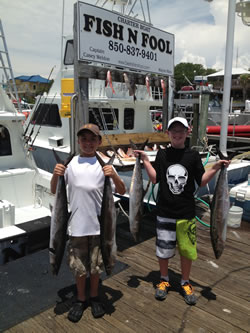 1/2 Day and All Day Family Fishing Trips
At Fish Destin we can set up a day of fishing for your family no matter how large and no matter what age group. We have charter boats and Captains that specialize in showing families and children in Destin the fishing trip of a lifetime. We know that the quality time spent with your family on a day's outing are memories that they will have forever. Family trips with kids are usually 4-5 or 6 hrs, but older kids like 8 and 10 hour trips too! Here is our current pricing for fishing in Destin
Another option for smaller families that want to fish near shore or in calm water is inshore & bay fishing. This is good for small family groups or when a parent just wants to take a child or two out fishing for a short trip a bay fishing or inshore trip.

If your family is staying in Rosemary Beach, Seaside, Grayton Beach, Sandestin, the Sandestin Hilton, Sterling Shores, Silver Shells, Pelican Beach or along the Destin Harbor at the Inn on the Destin Harbor, HarborWalk or the Emerald Grand, you are close by for a day of fun, family deep sea fishing! Call 850.837.9401 or
click here to contact us.